Beginner Fish Species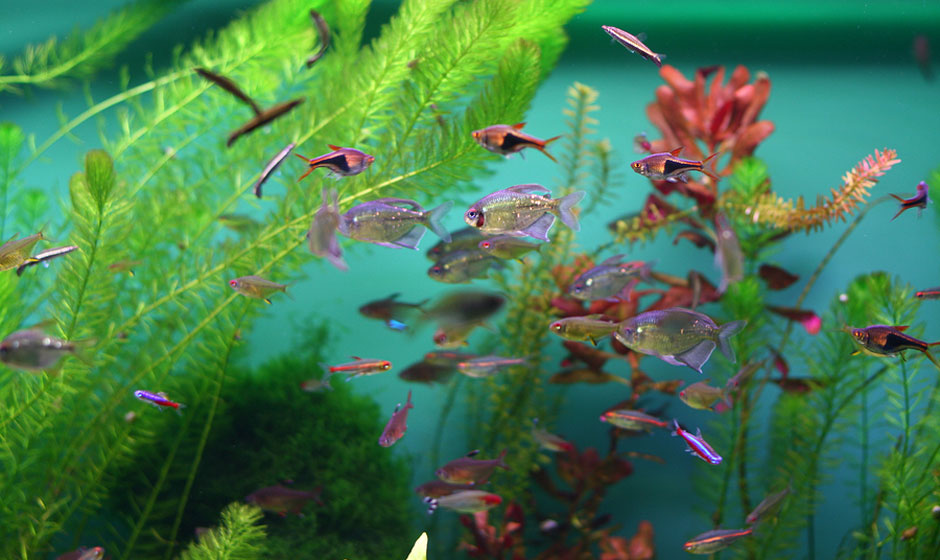 Not every fish species is suitable for a new aquarium. Species specific tolerance with water chemistry & tolerance of changes influence their ability to survive less then favorable conditions. Another hallmark for a beginner fish species is one that's not known for being aggressive to other fish.
The species below are suitable after the aquarium has been through it's cycling process (click here for the appropriate section for information on the 6 week cycling period every new aquarium set up requires.) The freshwater species are also great for a family hobby as they are fairly peaceful, active and interesting to watch.
Ideal beginner fish species

Zebra & Leopard Danios – The best first fish for cycling an aquarium, also an excellent choice for any community tank – except when other inhabitants grow large – Zebras always stay tiny & sleek and are easily eaten by big fish!

Giant Danios – Offer the same tolerance for imperfect conditions as Zebras, but the large size prevents then from being swallowed by others. Very active but prone to jumping out of the aquarium, make sure the aquarium hood offers good coverage without large open gaps!

Tiger, Rosy & Cherry Barbs – Tiger barbs, tend to be more aggressive but they are all 3 a very hardy species. Keeping these guys in a school can lower their aggressive tendencies – but this rule is not always the case, a few individuals can be more "feisty" then the rest!

Small bodied Gouramis – Dwarf, Blue, Gold are a few common selections. Little ones like these are more peaceful then bigger guys. A very pretty top-dwelling species that floats gracefully in the water.

Mollies, Platies & Swordtails – Aquarium salt with these species is a must for long term survival. They are considered mildly brackish (freshwater with high salt content) and thrive best on slightly saline conditions

Large bodied Tetras – Black Skirts, Lemon, Serpae tetras are a few of the more common species, although there are several more. Most bigger tetras (distinguished by a taller, rounded body) are very hardy.

Dwarf Frogs – Only add to an established aquarium (running at least 4 months) but a safe choice for a beginner. An important note is to assure the lid is sealed very well as these critters tend to jump out of fish tanks – we have lost many of the little guys as they explored beyond the confines of their water habitat…
Fish species to avoid
Avoid these especially during tank cycling. Even beyond that, these species are quite delicate and can die easily if conditions are not prime and stable. We've kept many of these over the years and it seems that every other month or so, one will disappear or is found stuck to the filter intake for reasons unknown.

Guppies – A gorgeous little fish, unfortunately years of inbreeding have created a very touchy immune system and created a very delicate species.

Large bodied Gouramis – Especially kissing Gouramis, they are very aggressive.

Cory catfish (corydoras) – Safe for an established tank but are susceptible to illness during aquarium ammonia problems. We like corys for established tanks only, add only after it's been running about 4 months.

Loaches – Tend to be mean and can grow very large. Don't be fooled by the cute appearance in a pet store, these guys grow quickly! They are a relatively hardy freshwater species however.

Algae Eaters / Plecostomus – A good species to add only after at least 6 months. They need algae to survive so never add to a new tank. Otherwise they are a peaceful tropical fish and do a great job at cleaning the glass for you.

Amphibians – With the exception of the African dwarf frog. Other frogs get really big and will eat all your fish. You'd be surprised at how big they can stretch their mouth to swallow an unsuspecting passer-by!

Angelfish – A beautiful but delicate species. For advanced hobbyists only. Even we have lost a few over time for no apparent reason.

Sharks – They are cute and friendly when small, but get very large (example iridescent sharks) and can be quite aggressive (example red tailed sharks).

Neon Tetras – Also includes other thin bodied tetras but we mention Neons specifically because they are so readily available. There are so many narrow Tetras that are delicate it's best to avoid all species in an aquarium less then about 6 months old. Even being advanced hobbyists, we tend to avoid Neons anyway. Inbreeding probably weakened this species over time.

Goldfish – Actually a very hardy species, regardless we advise against using for tank cycling. The new fish hobbyists is sure to receive conflicting advice about starting a tank with goldfish. We advise against it, they should never be mixed with tropical fish anyway. Tropical fish species and even schooling tend to nip at goldfish fins, furthermore, goldfish require cooler water temperature then topical species. Choose goldfish for cycling only if you are going to have a species specific aquarium with only goldfish.