Bettas / Fighting Fish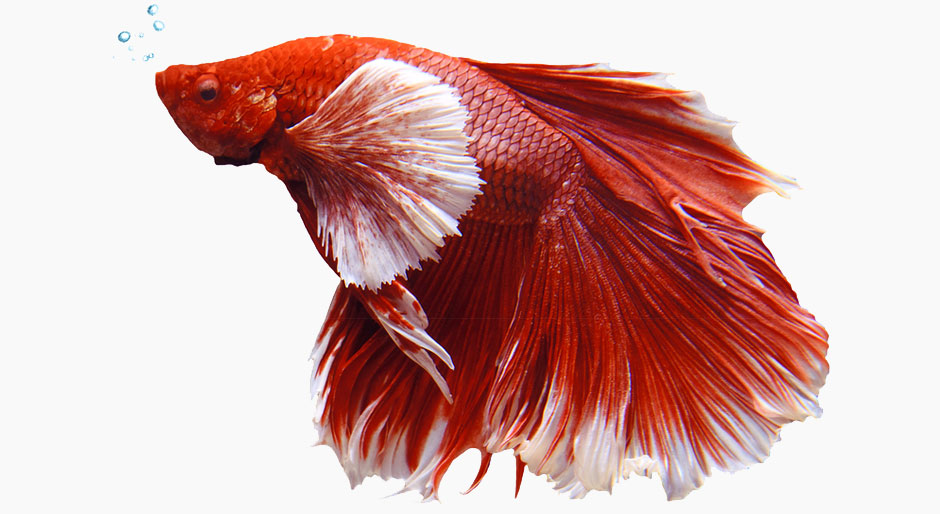 A unique species with a different lifestyle!
Originating in the swampland of South East Asia, Bettas live in shallow puddles, jumping from puddle to puddle feeding on insects. Highly territorial, males will fight to the death when encountering another male, hence the alternative name Siamese Fighting Fish, Siamese from 'Siam' an alternative name for Thailand. Females are peaceful and can live together.
Many people look at Bettas living in tiny cups in a store and think it's inhumane, actually this replicates the natural environment of a marshy habitat. Betta fish are actually agoraphobic, stressing easily in a large aquarium and do not like the presence of other fish as it goes against their solitary presence in the wild.
Their bodies are even made differently from other fish species, they have labyrinth lungs which means instead of breathing oxygen from the water, they breath directly from the air. This has evolved from lack of oxygen in their swampy, stale water. This is why they do not require filtration / aeration in their home habitat.
Keeping this fin-flowing breed alive, happy & healthy is extremely easy due to their simple requirements, but a few useful tips are as follows:

Keep the bowl covered. In the wild, Bettas jump so without a cover, one day you will almost certainly find a dried up fish on the floor. A piece of Saran wrap will suffice but make sure to leave a section open to allow him to breathe.

Feed strictly Betta pellets & bloodworms. Do not feed fish flakes. They are strictly carnivores and do not consume plant matter (which is found in fish flakes). A side note, frozen bloodworms tend to make the water messy and discolored, freeze dried bloodworms do not.

Keep only 1 male, but females can be kept together. It's advised not to keep females in a small bowl however, they can dwell in a smaller 5 gallon tank very well.


Feed every 3 days. They do not require daily feedings anyway furthermore, this will reduce ammonia spikes and fish waste accumulations in the bowl.

Change 1/2 the water every 2 weeks. Siphon detritus on the bottom with a turkey baster. Always replace with water of similar temperature and be sure ti use water conditioner to remove chlorine when adding new water.

Keep the bowl away from direct sunlight and cats!