Cichlids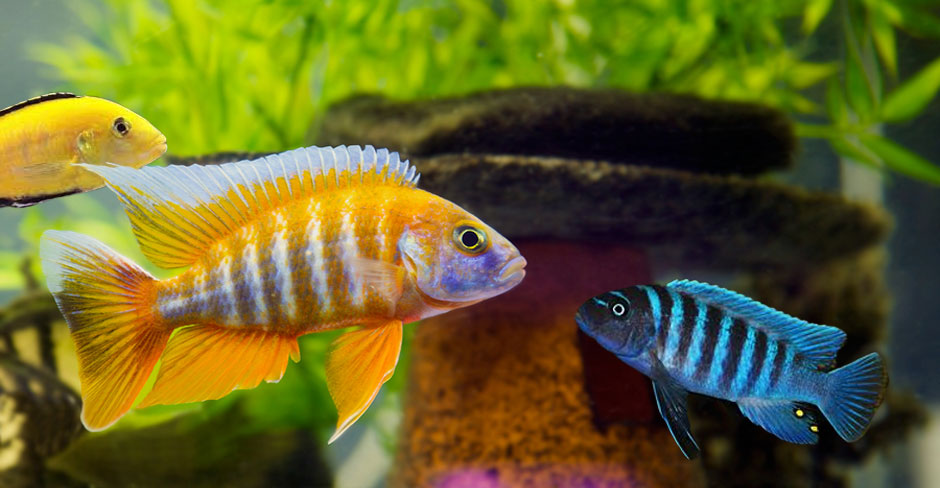 A true hobby, here we barely scratch the surface on cichlid care:
A unique set of rules accompanies cichlid care due to their "exuberant" personalities and tendency towards aggressiveness. Not recommended for beginners, but if you're the eager type who thrives on trial & error, loves research, experimentation and has time on their hands, it's a fun hobby to jump feet first into – no pun intended! There is so much to know, we suggest every beginner buy a book or do more research online reading cichlid specific websites and forums to get fully versed in their care.
Cichlids thrive in the wild, there are two subspecies – African & South American Cichlids. South Americans are much larger, less colorful and more aggressive. Popular south American species include Oscar fish and Jack Dempseys. African Cichlids are more popular, they do not grow as large and several different species can be kept together. Despite not being as large as their South American counterparts they get much larger then the average tropical fish, reaching around 4 to 6 inches in length. A minimum aquariums size of 30 gallons is required for this tropical subspecies.
Very hardy and easy to keep – although you'll expressive a true hobby in the sense where you'll always be juggling the stock of fish, sometimes one will become the tank bully so you will have to donate him back to the pet store, to replace it with another only to find now a new top dog has claimed the tank and is now the aggressive guy. A constant juggling of species and individuals keeps you on our toes, in conclusion this is an involved hobby compared to the regular home tropical fish aquarium.
Personally we love cichlids, they are active and intelligent freshwater fish. It seems kind of strange to assign intelligence to fish, but a keeper will notice they come to the top for food only to hide when a stranger walks by the aquarium. The are more interactive then community species and are always busy staking a spot and defending it from others.