Tropical Fish Diseases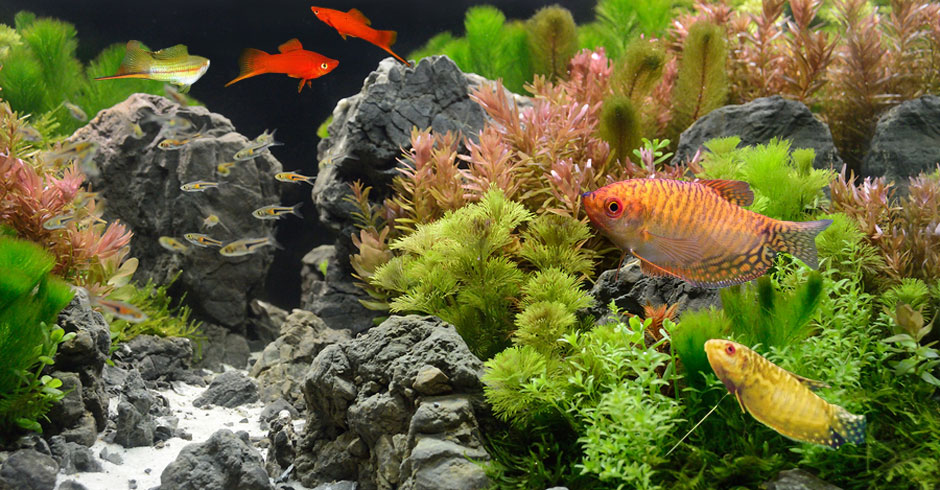 A home aquarium can host a large variety of bacterial, fungal & parasitic infections. Early treatment is best but there are few things you can do to increase the chance everyone will heal quickly.

Most illnesses are contagious so medicating the entire tank is suggested. Even if the disease is not contagious, it's not going to harm a healthy fish to give him a dose of treatment too.

If you have a large aquarium it's advised to set up a hospital tank. Use a smaller 5 gallon aquarium with air pump to place infected fish. Treating a 5 gallon tank is much easier and cheaper then treating a 90 gallon, hence the popularity of hospital tanks for advanced hobbyists and fish breeders.

Always remove carbon for the duration of treatment. In a power filter, you will need to remove the entire cartridge (carbon is located inside). Carbon absorbs medication from the water rending the treatment ineffective.

Adding freshwater aquarium salt helps with healing. A general tonic with electrolytes promoting good health, salt also can counteract the harsh effect of medication by reducing stress. Dissolve some in a cup of water before adding to the aquarium. Follow directions on the box for the proper amount to add according to tank size.

Most diseases are caused by stress & poor water quality. After the disease outbreak is cleared, you may want to increase the frequency of water changes and perhaps consider using a stronger filter or adding a second filter. Excellent filtration can help prevent disease by keeping water chemistry prime for living conditions.

Keeping the lights off is one of the best things you can do to ease stress. It's okay to leave the lights out for the entire treatment period.

Water changes also help, although the act of changing water can cause stress, the lasting result of a cleaner environment outweighs the risk of the change.

Medications are easy to shop for so don't be overwhelmed when trying to treat your fish tank, a blanket of similar medications is effective against a whole spectrum of various diseases. All that you need to know is the type of disease: Bacterial, Fungal or Parasitic. Reading the back of the box will advise you which treatment to choose.

Our favorite antibacterial treatments are Erythromycin & Tetracycline. Fungal medications we like are Fungus Guard & Fungus Cure. Effective parasitic medications are Malachite Green & API's General Cure. Melafix is a common antibacterial tonic but in our experience, it's not strong enough to completely cure an outbreak.


There are so many freshwater fish diseases, but to keep it simple, we're naming only the ones that the average fish hobbyist may encounter. If you see symptoms other then the ones listed below, please feel free to email us and we can let you know if it's bacterial, fungal or parasitic so you can purchase the appropriate medication.
Septicemia
Red streaks that line the fins and sometimes the body. A type of hemorrhage caused by high ammonia levels. An overstocked aquarium can easily cause high ammonia levels. Furthermore adding ammonia absorbing chips can curb this problem in the future.
Type of medication needed: Antibiotic
Cotton Disease
A fuzzy white fungal growth over the body, mouth & eyes. Frayed fins is another common symptom. Sometimes the cotton can be focused solely on the tail. The location of the fungus will determine the exact type of disease, although they are all treated the same way. A very common illness caused by poor water quality combined with high stress level, new stock is especially susceptible and it spreads easily.
Type of medication needed: Fungal
Dropsy
Characterized by a overly puffy body with scales that stand outward from the body. Usually a digestive disorder but can also be caused by poor water quality & presence of micro organisms in the fish tank. A non-contagious internal disease however treatment is usually ineffective. Of course there are antibiotics available, but the fatality rate is extremely high.
Type of medication needed: Antibiotic
Fin Rot
A very common condition mostly associated with other illnesses. As the immune system lowers, fins fray as the body is busy fighting off illness taking away body's natural maintenance of the fins. Stress is the main factor but this is easily cured by adding salt to the water which adds electrolytes to help repair fins. Usually resolves itself over time however if your condition is persistent, antibiotics may be used.
Type of medication needed: Antibiotic
Ich
A widely known tropical fish disease. Little white spots all over the body, a wildly infectious parasite. Stress & fluctuation in water chemistry is the main cause. Most often a new addition to your fish tank will develop Ich rather then an established resident. A similar disease called "velvet" with velvety light colored dusting over the body is treated the same way as Ich. Luckily both illnesses are easy to treat provided the infection has not gone to far.
Type of medication needed: Parasitic (there are also many Ich specific medications)
Swim bladder Infection
A bacterial infection characterized by fish swimming upside down & out of control. Goldfish are especially prone, caused by gulping too much air during feeding. Often proves fatal, but a few things you can try include removing the fish to a very shallow bucket with 2 inches of water, an environment with less water pressure eases the bladder helping to regulate itself, also adding extra salt can help but attempts usually prove futile.
Type of medication needed: Antibiotic
Pop Eye
You'll notice large protruding eyes, which is a centralized bacterial infection behind the eye. Usually the fist symptom, noticeable in a host of diseases, if a fish develops this your water quality is likely poor. Other unnoticeable illness may be brewing under the surface so treat immediately and the problem usually resolves itself.
Type of medication needed: Antibiotic
Hole in the Head
Small indents in the body sometimes with a stringy substance hanging out. An internal parasitic disease caused by poor water conditions, lack of good bacteria and a whole other spectrum of things. In summation, we're not really sure exactly what causes this style of aquatic infection. The treatment is fairly simple however and usually proves successful.
Type of medication needed: Parasitic