Filters
Providing adequate filtration is the most important thing you can do to have success keeping tropical fish alive. A filter removes waste from the aquarium and circulates water. In the wild, fish (The Betta being the exception) live in lakes, rivers and streams of flowing water. Moving water transports essential elements and keeps it oxygenated – the filter mimics this effect in your home aquarium.
Flowing water brings carbon dioxide molecules to the surface to be exchanged with oxygen – most fish derive their oxygen directly from water so this is very important. A better filter is going to help keep chemistry stable however regular water changes are the best way to replenish the essential elements and stabilize the balance regardless of the form of filtration you plan to use.
3 types of filtration working together in harmony:
Mechanical filtration: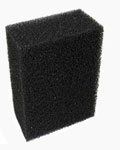 This is the floss or foam insert where water passes first. This traps  large particles. The foam pad should be rinsed every second or third water change. Always rinse this in the bucket of water you've already removed during a water change, do not rinse under tap water or you will kill any beneficial bacteria living on the surface. The foam pad is usually changed every 3 – 6 months. The specific instructions on your filter will give you a more accurate time line, however I have seen filter instructions that said to change the pad every month, this is not necessary as long as you rinse it every month.
Chemical filtration: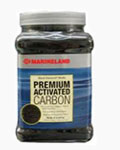 Carbon is the most common media and always found inside the filter pads on power filters. Carbon absorbs gases, heavy metals and other foreign materials. This also helps to keep water crystal clear.  If you experience an algae bloom, using phosphate remover will absorb phosphates from your water which is the leading cause of algae. Ammonia neutralizing crystals are another commonly used media. In addition to sitting inside the filter, a fine mesh pouch containing media can be placed on the bottom of the aquarium. This method is especially useful for ammonia neutralizers since ammonia is heavy and always concentrates at the bottom.
Biological filtration: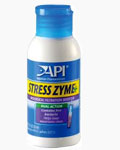 Living organisms that break down waste products such as ammonia and nitrite which come from decomposing organic matter. Biological aides grow naturally over time over all surfaces of the aquarium and filter. This is the single most important form of filtration, without it you'll experience the dreaded "new tank syndrome" where an eager beginner will add bags of fish to a newly set up aquarium only to have them all die off. This is the reason we tell readers never to rinse ornaments or filter media in tap water as chlorine kills bacteria. Always rinse your ornaments and filter media in water from your fish tank. Please note that the product called "Stress Zyme" in the adjoining photograph is a great supplement to add to new fish tanks only. Established ecosystems already have enough bacteria, adding more is just a waste of money.
2 common filter types: Power & Canister.
Power filter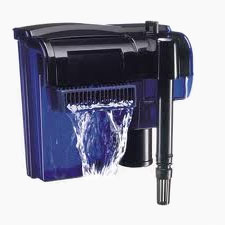 These smaller self contained devices hang from the back of the aquarium. They require less space and do an adequate job in a smaller sized aquarium. Most commonly included with fish tank starter kits. There is a cartridge that slips inside offering both mechanical and chemical filtration. Rinse the cartridge in fish water every month and replace every 6 months.
If you have a larger aquarium then the filter is rated for, it's safe to place 2 units, one on each side, and is actually recommended for larger aquariums anyway. Many 55 gallon starter kits include a double power filter with 2 siphons and 2 waterfalls. We think these do a good job but if you plan on packing the aquarium full, you may want to consider hanging a second smaller power filter on the opposite side.
Canister filter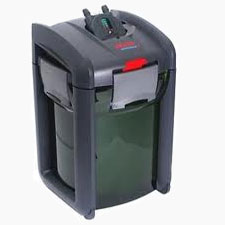 A multi level system offering superior filtration, is located externally (usually placed behind the doors of the aquarium stand) and connects with large tubing as it siphons water out of the aquarium, into the filter and back into the aquarium again. Water passes through several layers of media removing impurities before it's return. A canister is the best choice for aquariums larger then 30 gallons. These are significantly more expensive but if you plan having many or large bodied fish, this option will really help prevent headaches from disease outbreaks due to poor water quality. It's important to note however that bi-monthly water changes are still a requirement.
The canister will accumulate fish detritus over time so it's advised to remove the lid and dump the water out every 3 months. The white foam filter pads will need to be changed every 6 months and rinsed every 2 months. Be sure to rinse only in fish water, never chlorinated tap water. Many brands include bio-balls or pieces of porous rock material to help grow a layer of bacteria, these should never be rinsed nor replaced.