Goldfish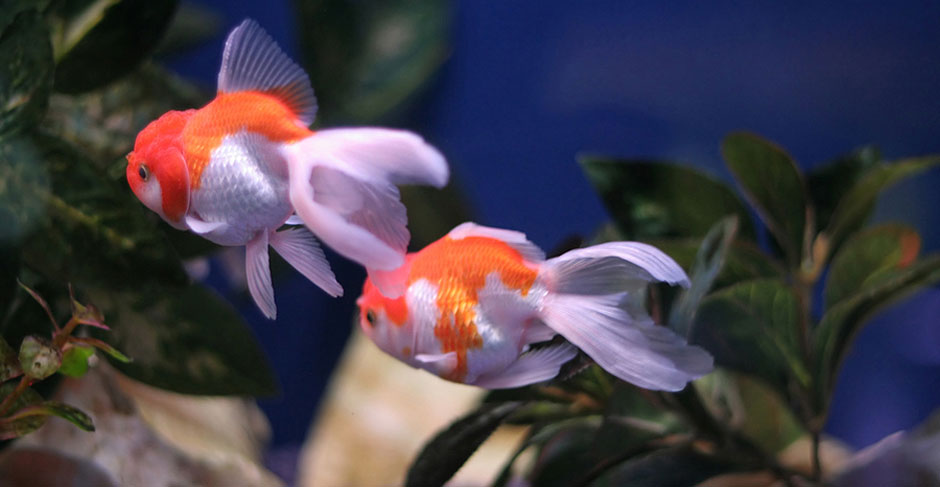 A long history precedes this funny looking albeit graceful colder water fish species. The Chinese have bred several different species over the years like Orandas, Lionheads & Ryukins. Despite their physical differences, they all have the same care requirements. Our most important tips for successfully keeping goldfish are as follows:

Thriving best in a large aquarium, they carry a heavy bio-load and are easily the messiest fish species. You can't slack on water changes with these guys, especially in a heavily stocked aquarium. A 25% water change every 2 weeks is a must.

As a cold water species, they do not require a heater. A prime  temperature is around 70 degrees. (As a comparison, tropical fish require temperatures around 76 degrees). Goldfish to not do well in warm temperatures which is the main reason why goldfish & tropical fish should never be combined.

Always add aquarium salt to the water. It helps balance the osmotic qualities of the round fish body. It also helps lower stress and make it easier for internal organs to function normally. This is one of the most important tips for proper goldfish care.


Never keep in a bowl. The environment is too small and they are too messy. Even though goldfish are hardy, the waste load is too much for a small bowl to handle, furthermore they get much too large for the confines of a bowl.


We strongly advise a canister filter for a goldfish aquarium. Going back to their messy qualities which are caused by a very large rounded body. A big fish produces more waste then a small fish an goldfish carry much more volume then your standard tropical species.


Fancy goldfish need lots of space, consider an aquarium larger then 30 gallons. Even though they are small when young, the maximum size is quite large. Keeping them in smaller fish tank can stunt growth which usually results in premature death.


Avoid ornaments with sharp edges. Their long, flowing fins tear very easily. Colored glass blocks look pretty underwater but are a big no-no for this species.


Feed only goldfish specific foods. A High protein diet is very difficult to digest and they are susceptible to digestive issues which mostly prove fatal. Goldfish flakes and pellets are made with their specific dietary requirements in mind.

Mix goldfish specific food types, we like a blend of sinking pellets, floating pellet and flakes. Sinking pellets are a good idea because they gulp air during feeding, constant air intake fills bellies with air bubbles and an overabundance cannot be "burped" causing swim bladder infections which will almost always kill them.


Keep the water sparkling clean! Ammonia spikes happen easily in a fully stocked goldfish aquarium, every 2 weeks the water need to be changed. Centuries of specific breeding have lead goldfish to be disease prone should water conditions become low. If you think you won't be able to dedicate bi-monthly water changes, perhaps you may want to consider a community tropical fish aquarium instead.

Goldfish will grow to accommodate the space they are in. Recently, there was a news report where this man caught a Goldfish in a local lake. The fish had been released by it's previous owner and being in an unlimited environment, was able to grow to a massive size: