Questions & Answers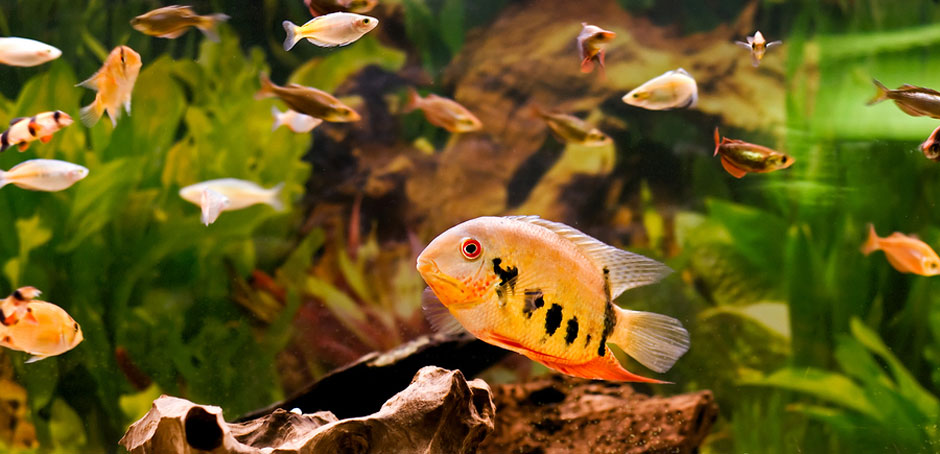 There is an endless supply of questions & answers about all facets of aquatics. We've quoted some of the most common queries but if there is one you don't see here and want an answer for, please contact us!
We'll be happy to personally answer your question and we'll add it to this page. If there is one person with a question, chances are they are a thousand more out there with the same problem so yours will certainly help other hobbyists in the future.
How do I fix cloudy aquarium water?
A few causes for this problem include poor water quality, high fish load for the filtration capacity and dust from rocks, gavel or ornaments that weren't properly rinsed. Follow these steps for clearer water:
1. Test the ammonia and nitrate levels (if you have a test kit). If levels are fine, you know it's not a poor water quality problem.
2. Follow with a 25% water change.
3. Reduce feeding until water becomes clear again (we advise feeding once per week.)
4. Add more carbon. Purchase a tub of carbon and fill an aquatic mesh bag. Tie the top and place the bag in the bottom of the aquarium. Carbon is excellent at absorbing impurities and is the most important thing you can do to prevent cloudy water.
5. If the problem still persists, upgrade to a better filter or add a second one.
If the problem is caused by adding dusty gravel or rocks, this won't affect water quality, but cloudy water can last a long time. Carbon will speed up the clearing and you may want to remove the rocks and let sit underwater in a large bucket for a few days to dissolve the rest of the particles.
Help, my aquarium water is green!
An algae outbreak caused by free floating algae spores, an overdose of light is a primary cause, especially sunlight but leaving the aquarium lights on too long can also cause the bloom too.
1. First step in controlling this problem is to block sunlight and reduce lighting. In fact, keeping the lights out during the entire treatment period is really going to help.
2. Reduce feeding to once per week. Food adds nutrients into the water which the algae spores thrive on.
3. Adding phosphate absorber into the aquarium or filter will assist in removal of extra spores.
4. Adding a binding agent (example Hagen biological water clarifier) into the aquarium will cause the algae spores to bind together into clumps allowing them to be trapped by your filter foam pad. Before you begin this process, rinse or replace the filter pad because an overabundance of trapped particles can clog the filter. Afterwards, rinse the filter pad or replace again because if enough particles return back to the water, it can easily start another bloom.
5. A month's worth of weekly 25% water changes will help keep it under control and reset the aquarium back to it's clear state.
A UV sterilizer is the best way to eliminate green water. This piece of equipment zaps water that runs through with UV light killing free floating cells, clearing the water. Even though these are not always cheap, you'll benefit from extra disease control as the UV rays also kill parasitic bacteria in the water.
My fish are sick, why can't I sterilize ornaments & change all the water?
Common sense would say to sterilize the environment preventing illness from spreading, after all that's what humans do in real life! Truth is however this could cause everything to get worse. Inside the aquarium, across all surfaces live micro bacteria that help to regular the natural ecosystem in the aquarium.
Good bacteria keeps ammonia and nitrate levels under control, sustaining the cycle of life. Cleaning everything kills this bacteria essentially shocking your ecosystem. I can also guarantee that anyone who cleans out everything when fish are sick is going to loose the entire stock. Medications are ideal for treating illnesses, it's nothing scary either, please view our fish disease page here for further information.
What is your opinion on under gravel filters?
Once a very popular form of filtration, we now find them to be completely obsolete. New technology especially from canister filters, can circulate and aerate water via long probes that insert into the water to offer the same level of circulation that under gravel filters have. Another think we don't like is over time, detritus can sink through the plate and prove difficult to siphon out. An easy ammonia spike and algae bloom is the result of trapped detritus and food particles. If someone tells you under gravel filters are good for aeration, we would counter argue that an air bubble wall powered by an air pump provides the same level of aeration.
A reason why some people still use under gravel filters is to provide a layer of protection between the bottom glass and any dropped ornaments. If you have young children with their hands in the aquarium helping you with maintenance, a dropped rock is not going to cause a crack in the glass since the layer of plastic will adsorb the impact. We have true life experience behind that statement, the under gavel filter actually spared a tank from breaking!
Why does this certain specific fish species keep dying?
Certain fish species are not hardy at all. They are very picky about water conditions and require specific salinity levels, water harness or softness, pH level and so on. For example, some people have trouble keeping Plecostomus alive. They are very finicky requiring specifically soft water. Some cities have hard water, you'll know if your city had hard or soft water by the build up of calcium on shower doors, lots of white streaks mean your water is hard. Try softening the water with a piece of driftwood or a water softening pillow. On the contrary, cichlids like hard water as this replicates the natural environment in the wild.
Several years ago, I had a tank full of goldfish and every few months, one would always start swimming upside down. Turn out I wads feeding only flakes which causes too much air to be ingested which caused swim bladder infection. I alternated sinking pellets with flakes and the problem went away!
We suggest if you are having a hard time keeping a type of fish alive, please email me with the species you're having trouble with, the city you live and the specifics of your home aquarium and I will offer some advice and even add your question here for other people who are having the same problem.
Help, I have an algae problem that wont go away!
Don't panic, algae is actually a good sign. It means your aquarium has a healthy ecosystem in place simply part of the natural process of an aquatic environment.
1. The 2 most common ways to beat the problem is by adding an algae eating fish and…
2. Adding phosphate removing media. This is usually a pillow that's added to the aquarium and absorbs spores preventing a further outbreak.
3. A build up of organic matter is a frequent cause, Water changes help reduce the organic matter. Change the 25% of the water every week for a month to limit the bloom.
4. Too much light is another main cause. Make sure sunlight does not reach the aquarium as this will cause it to bloom beyond control. Limiting the time the lights are on can certainly help.
5. An advanced way to control algae is by using an external UV sterilizer which kills spores as the water passes through the tube. Furthermore, the UV sterilizer will kill parasitic bacteria in the water adding extra disease protection to the entire aquarium.
6. Wipe the interior of the glass weekly with a scrubber pad or facecloth. Algae problems seem to snowball easily the less you have in the aquarium, the less it will bloom. If you let the algae grow on the glass, it will age, turning dark brown and getting very solid. In this case a razor blade would be required to scrape it away. Algae eating fish to not eat this darker, solid form.
7. Adding several plants can help as they will out compete algae for essential nutrients. Make sure to add lots of plants however, a few pieces won't handle the problem. Please see the aquarium plant section here for more information.